Conference venue
The meeting will take place at IST-Lisbon, the largest science and technology school in Portugal. All talks are scheduled forRoom EA1, in the North Tower (Torre Norte), whose location in the IST campus is indicated in the map below. You can rescale the map to see where the IST campus is located in the city of Lisbon.
Event Location
Markers
Portugal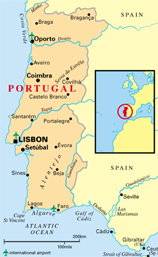 Portugal is a country of astonishing beauty and diversity, not to mention clear blue skies and friendly, courteous people. Pick any destination and the view from your window might be a rugged stretch of windswept coastline (Cabo de São Vicente, Cabo da Roca, Cabo Espichel), a pristine beach where fishermen mend their nets beside brightly painted sardine boats (Albufeira, Bordeira, Praia do Camilo) or a cobbled street overlooked by dazzling whitewashed houses with wooden balconies and red-tiled roofs.
Portugal is a land of infinite options. You can mingle with the crowds in one of the more sophisticated beach resorts or wander through the medieval quarters of historic cities like Lisbon, Porto, Braga or Coimbra.
Not far from Lisbon, we can find one of the most delightful places in Portugal: Sintra, together with the range of hills it lies in (Serra de Sintra), is extremely beautiful and unique in its combination of nature and ancient monuments.
Another destination within easy reach of Lisbon is the Estoril Coast. Estoril is conveniently located between Lisbon and Cascais and its dazzling beauty provides an excellent venue for business and pleasure. Beaches on the coast of Estoril are known for their calm waters and fine sand. Estoril's attractions, apart from the beach, include the Estoril Casino, the largest in Europe, with its extensive gardens and a golf course. On the train or going for a walk on the promenade, one will be dazzled by the beauty of the coastline. In Cascais (only 5 minutes away by train), one can visit the Town Hall, the Citadel - Fort of Cascais, built in the 16th century to protect its bay, and its many museums. In the evening, the bars, restaurants and pubs in Cascais attract the local population and tourists from all over.
To explore more remote spots of interest (car hire is relatively cheap), stay overnight in a romantic pousada - a converted farm, monastery, or manor house enjoying a wonderful setting - an amazing bargain. If it's an activity holiday you're looking for, Portugal is one of Europe's premier golfing destinations, while the tennis schools are second-to-none.
The delights of Portuguese cuisine are also a tradition that shouldn't be missed. There are restaurants of all categories and for all tastes, from the most luxurious establishments to the simplest of taverns, where visitors will be surprised to find how low the prices can be.
You could try your hand at big game fishing or horseback riding, learn how to windsurf, or water ski. Other not-to-be-missed experiences include Fado (Portugal's answer to soul music), country fairs where centuries old folk traditions are lovingly reenacted, Port wine tastings, and mouthwatering fish suppers. Portugal is a country ripe for discovery.
Lisbon
This legendary city has over 20 centuries of history and is full of historic monuments and sights. One can visit the Royal Coaches Museum, the Jerónimos Monastery, the Tower of Belém, the São Jorge Castle or go for a walking tour through the picturesque Alfama, the oldest quarter of Lisbon.
Getting to Lisbon and the venue
Portela Airport (Lisbon) is an international gateway with flights departing and arriving from almost anywhere in the world and is only 7 km away from the centre of Lisbon, and just a few km from the venue at IST and the hotels nearby. There are various connections to the IST area by bus (link Carris), Aerobus (link), and taxi.
When arriving by train get off at the station Gare do Oriente, from where you can take the underground metro to Alameda, near IST. When arriving by coach, you may arrive at a terminus also in Gare do Oriente, or you may arrive at the coach station coach in Sete Rios. From Sete Rios there are connections by underground metro or suburban train (to Entrecampos near IST).
Climate/season
Due to a Mediterranean microclimate Lisbon has mild winters and fairly hot summer temperatures. In early September the weather is likely to be hot and dry.
Useful links